Garden and Backyard Birds
Here are the more familiar species which most of us see on a regular basis. This is one subject that is best tackled with a long lens, and my Zuiko 70-300mm does nicely in allowing me to capture images that look
"up close and personal". In reality, I am able to keep my distance so the birds can go about their lives undisturbed. With those in my own gardens, it's not difficult for me to be around them as they are quite used to my presence (and my handouts). But I still carry that big lens whenever I want to try some avian photography. I do this almost every day, in fact, and am blessed with the patience to stand still and wait for a subject to hop, fly or swoop past me.

All photo species captions run from left to right unless otherwise noted.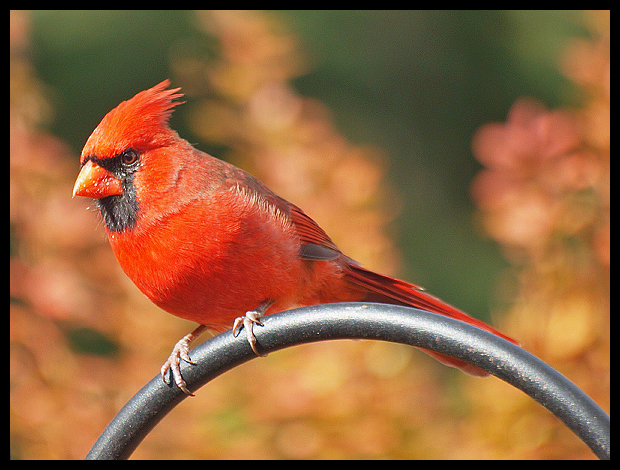 northern cardinal in October (male)
Male northern cardinal; I am fortunate to have these birds visiting the feeder and shrubbery right outside my window!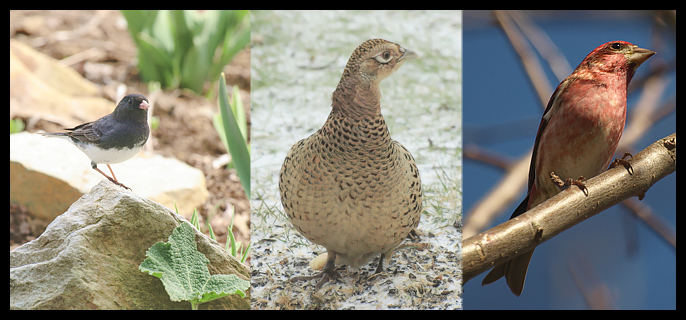 NS is home to a variety of avian species of all sizes and shapes. Here we have a junco, hen pheasant and male purple finch. The pheasant was photographed through a window.


common grackle, with fledgling newly out of its nest - it eventually mastered its wings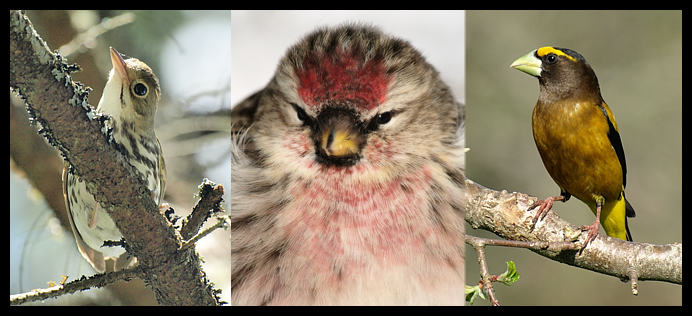 a wood thrush, male redpoll and male evening grosbeak; the thrush was photographed at Birchdale, formerly Nova Nada in the back country behind Kemptville near the Tobeatic preserve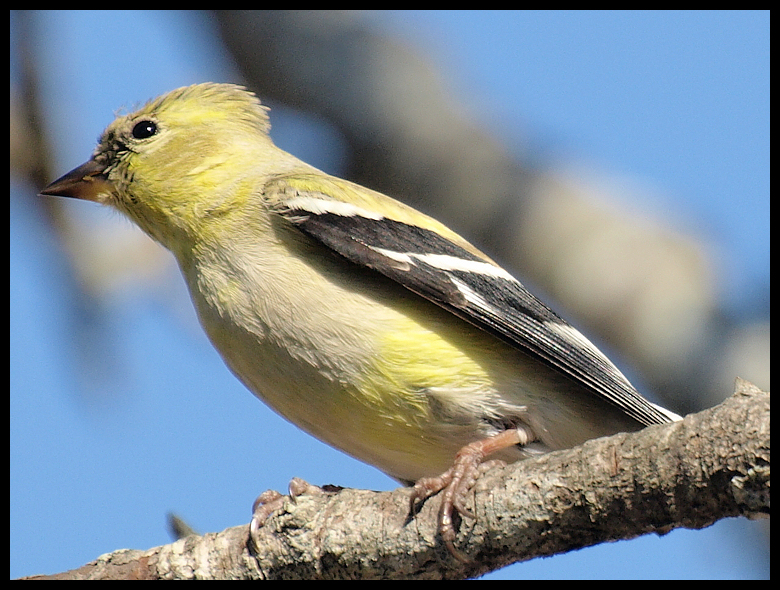 Even male goldfinches can have bad hair days! Late-winter plumage s duller than summer yellow.

male yellow-rumped warbler - has visited my yard only once within camera range

winter residents must battle harsh weather and lack of food; I keep them well supplied with the latter - male hairy woodpecker, bluejay and black-capped chickadee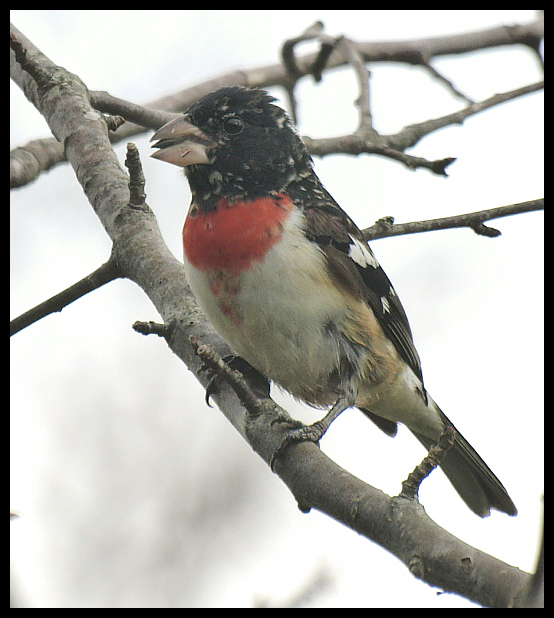 male rose-breasted grosbeak, another infrequent visitor at the feeder in my garden

adult American robin and fledgling
song sparrow with characteristic chest patch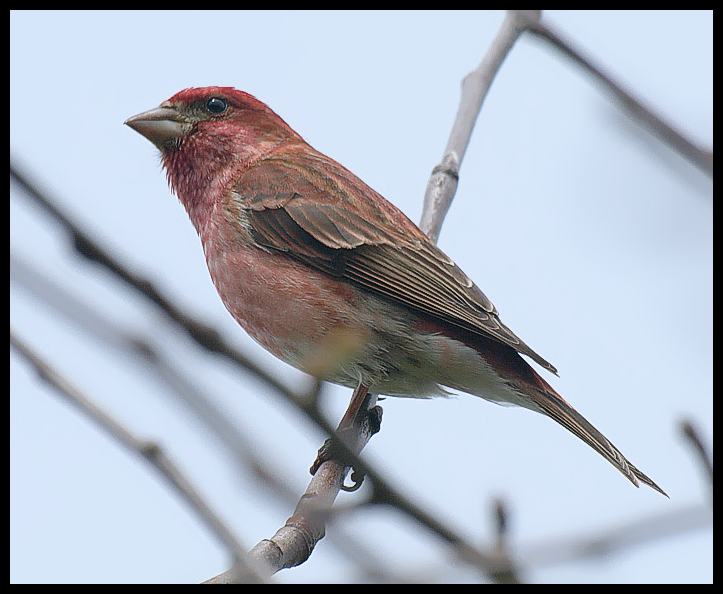 a handsome male purple finch in late-winter plumage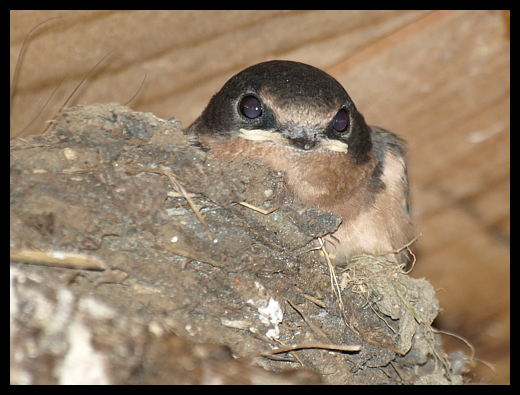 A fledgling barn swallow - the last one in the nest, and scared to leave! A swallow family has been residing in our garage for countless years, always using the same next on a beam.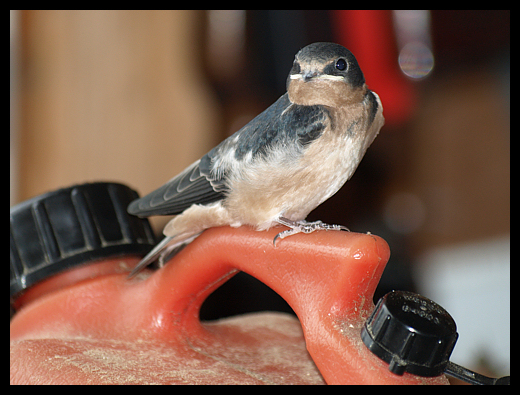 A sibling to the baby in the nest, but braver - although it explored the garage before discovering the outdoors!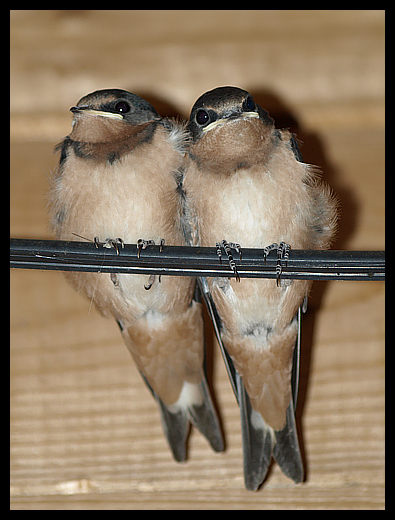 Lean On Me - two newly-fledged barn swallows
fledgling grackle - beauty is in the mother's eye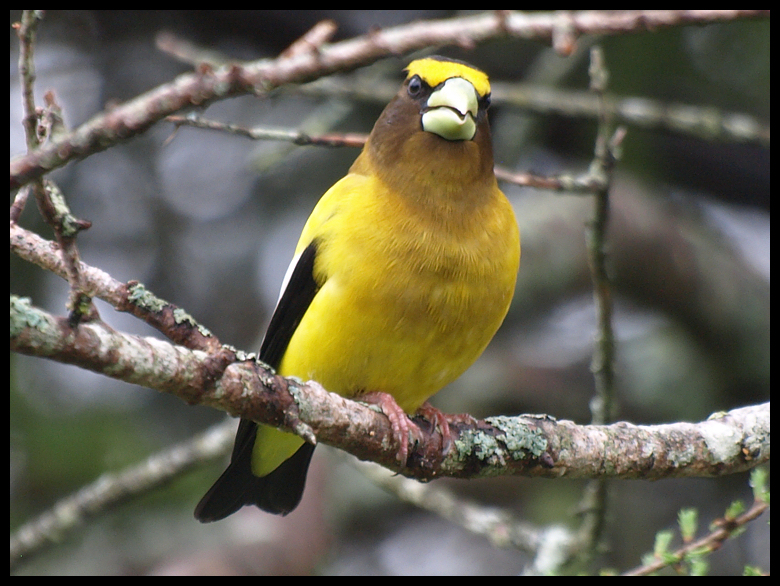 male evening grosbeak in early spring
common snipe - it visited several times and spends hours dancing over the marsh nearby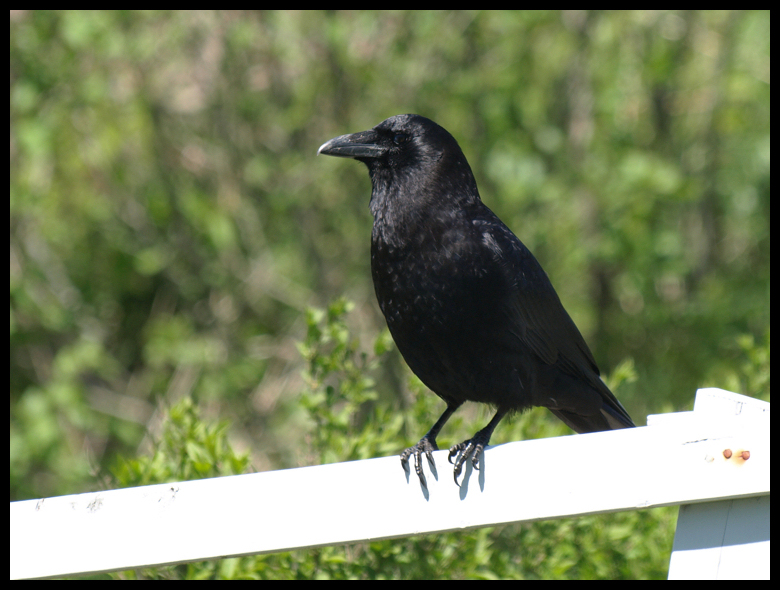 American crow (I think this is a most handsome and clever fellow)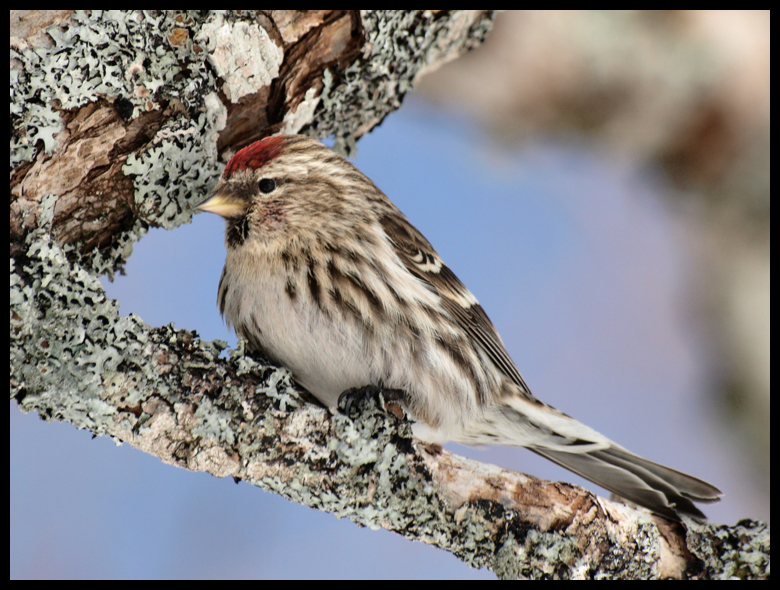 female redpoll in winter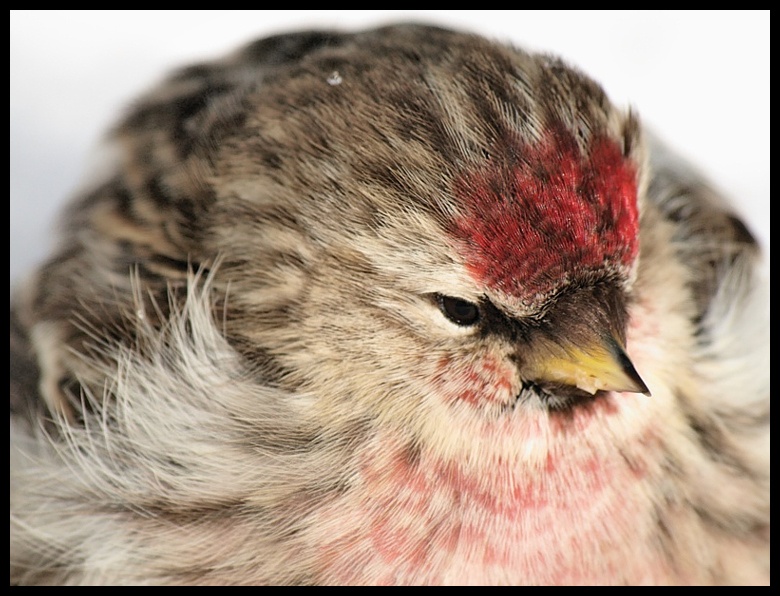 male redpoll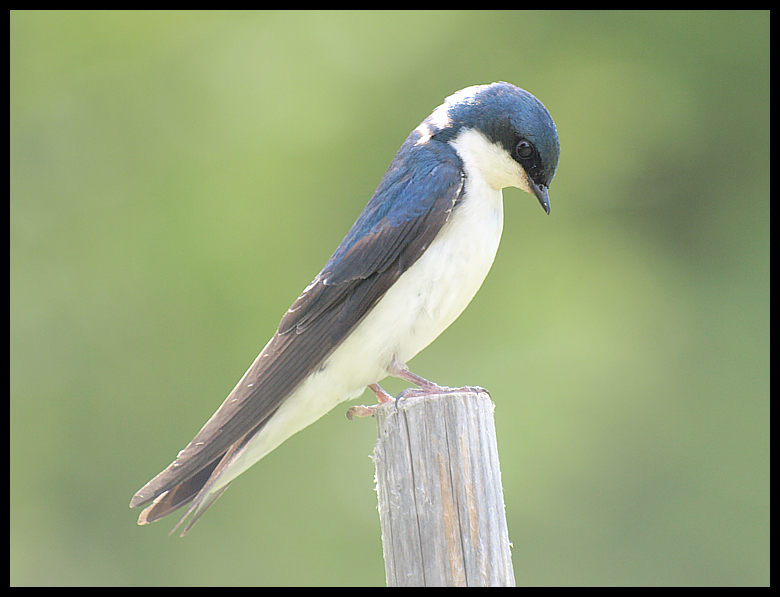 tree swallow on a fencepost beside my veggie garden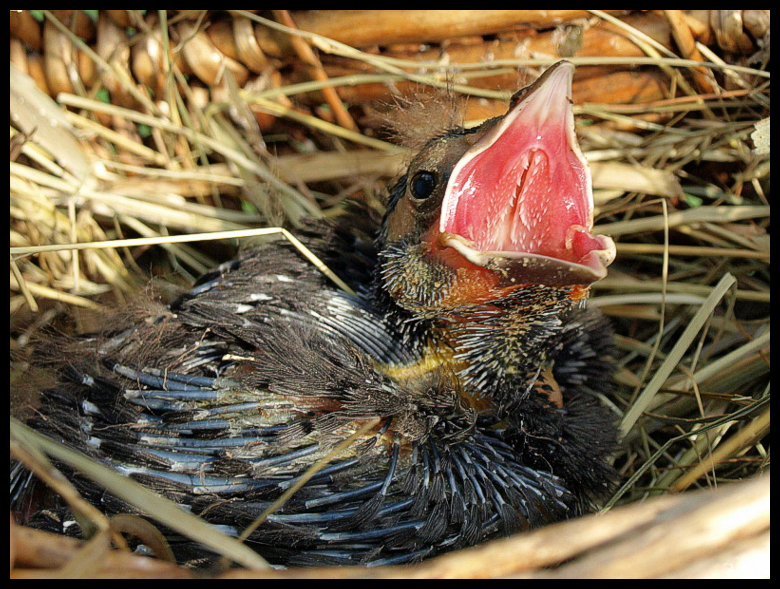 a very young baby grackle which had fallen from its nest and was then ignored by the parent birds, being hand-fed

Canadian Tire Babies - at our local Canadian Tire outdoor garden centre, a pair of finches built their tiny nest in a small mugo pine among the others on sale; the staff guarded the area, and posted a sign to warn customers. I was able to use my long lens to peek inside. There were three babies but one was obscured by branches and shadows. Only a couple days after this shot was taken, the babies flew and so the family departed. The garden centre staff have copies of my photos and I applaud them for their compassion.
Male hairy woodpecker and his male fledgling - these birds spent days on my backyard pear tree where I keep my suet feeders. The father appeared to be initiating his sons (there were two) into the larger world beyond the nest. I didn't see a female in evidence. Males have a telltale red marking on their heads. But the placement of the red is obviously different between young and mature birds.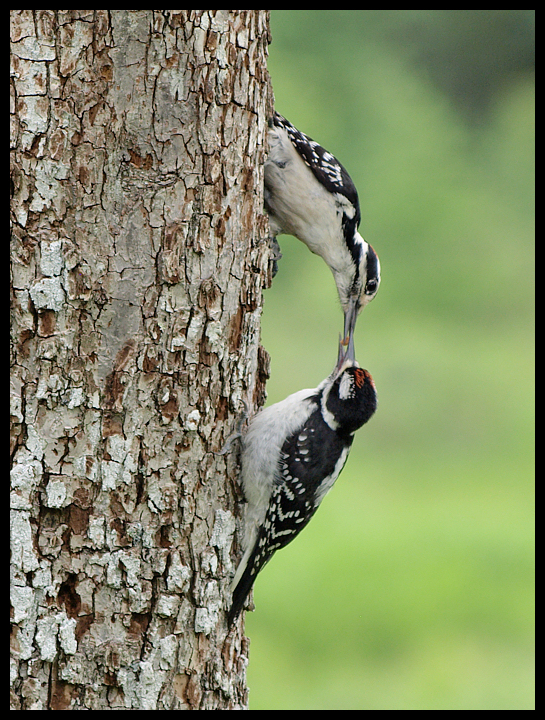 "Here you go, son." A father hairy woodpecker teaches his baby what suet tastes like! Note the baby's sparse red mark, which will fill in with age.